Schedule Analysis Report – HCP Go
Examples of Critical path analysis
Are you looking for Examples of critical path analysis or more information about Schedule analysis report?
Let's look at the following example:
Project schedule consultant gave you a schedule of your project.
You created a schedule of your project.
The contractor gave you, the project manager, a schedule.
How can you examine the schedule – and uncover problems? How can you pinpoint issues to address and manage? How can you take proactive actions in order to avoid crisis in the project?
That is what HCP-Go, an addon to MS Project, does. The HCP-go analyzes the schedule for you in a very short time and writes a schedule analysis report, with five parts:
Cover
Table of Contents
Executive Summary
Schedule Quality Analysis
Critical Path Analysis
On the cover you'll have your logo (when license purchased), the HCP iceberg image, Project manager name, Report generator name and Report generation date.
Schedule Analysis Report – Executive Summary

The Executive Summary section holds within a lot of summary of data derived from the next two sections and most interesting –
you'll find a graph for estimating project success expectation according to the schedule, work contents and budget

Schedule Integrity Analysis: Whatever does not comply with the rules of 'how to write a schedule' – you'll find in this section. If things are ok – you'll have a green V!
The HCP Go checks the schedule for these issues:
Tasks (activities) not linked to successor tasks.
Start-to-Finish (SF) links.
Tasks with Predated Successors.
Tasks with Calendar Inconsistencies.
Overdue Tasks.
Summary Tasks with Link Issues:

Summary tasks linked to predecessor tasks
Summary tasks linked to successor tasks
Your goal is to receive that: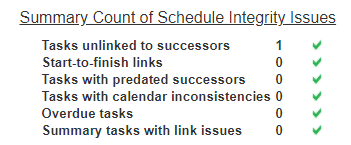 Project schedule report
To learn more about this section, read this  Examples of critical path analysis.
HCP Critical Path Analysis: The HCP maps the Critical Paths in the project according to HCP and the Hidden Critical Paths. (To understand the difference between the Critical Path by CPM and the Critical Path by HCP, read here :Critical path analysis
Following are the sub-sections – each has a detailed explanation in the report:
HCP Critical Path Analysis Overview
Tasks in the HCP Critical Paths
Opportunities for Bringing Forward the Schedule's End Date
Risk issues (1): Overlapping Tasks in the HCP Critical Paths
Risk issues (2): Tasks in the HCP Hidden critical Paths
Risk issues (3): Difficult-to-Track Tasks
Unstarted (Overdue) Paths
Identified HCP Paths
Redundant HCP Paths
Enhanced Schedule File
For every task mentioned in the HCP report, you need to ask 'why did this happen?'. The answer holds within interesting insights of the project!
For an example of HCP analysis report with all the Critical path analysis by HCP method, see here: HCP chedule analysis report