Looking for a quick and simple way to promote your WordPress site?
It's important for us to emphasize, from the beginning that this is a process that requires thought, planning and work.
But we can guarantee that it is possible to rank number one on Google with organic promotion!
WordPress website promotion has changed a lot over the last 10 years,
On this page you will find up to date tips to help you promote your WordPress site in minimum time with maximum results.
We've created a table of contents that will help you navigate this WordPress site promotion article easily:
WordPress SEO – Promoting WordPress sites on Google
Promoting Websites on Google
Promoting your WordPress site is not about what Google thinks, but rather about giving real value to the web surfers who visit your site, and for them to like your content.
If people connect to your content and feel they have received important information – they form a significant connection with your site, and they are, therefore much more likely to become your customers.
Your article bay be 100% optimized for Google and other search engines, but if your readers leave it after a few seconds, it will not be promoted on Google and, of course, it will not help you get new customers.
One of the most important parameters in Google's site ranking is the amount of time that users spend on the site. The higher the quality, the more interesting the site, the longer they will stay.
In summary, it is important to spend time optimizing your site, but ultimately the most important thing is to give real value and speak in a language that your prospects can understand.
Don't have a website yet? Click here for the complete guide to building WordPress sites for business.
Our journey promoting ​​WordPress sites was a bumpy road. We paid a heavy price for the mistakes we made along the way, but learned a lot from them.
It all began when we left our paying jobs to start an independent business. At first, we created income through Google AdSense by setting up and promoting content sites in Hebrew and English. During this period, we earned thousands of shekels from Google each month. (Yes! Google pays 50% of the click price on an ad to the site owner). That entire business was wiped out in one night in 2011, with the Panda Update, and we found ourselves in a financial and professional crisis.
But we were still fascinated by the field of digital marketing. We did not despair.
We took web promotion courses in Israel and around the world. We read every research article we could lay our hands on.  We joined website promotion forums and examined every possible angle in the industry.
Slowly we began to formulate an organic method, and a path to generate constant traffic to our sites. We realized that the first step is to grasp what is different, what is special in our business and then to create content with real value for customers.
Over time, traffic on our websites increased, friends and acquaintances who heard about our success asked us for help promoting their sites and so we established muchmore.co.il
In the article below, we've summarized the quick and easy way to promote your WordPress site. Take note of the links embedded in the article – they point the way to additional articles which can deepen your knowledge. Enjoy.
Website promotion is a way to get traffic and potential customers to a site by earning higher search engine rankings.
In English, organic site promotion is called SEO which is an acronym for Search Engine Optimization.
Despite the popular notion that site promotion is very complex and technical, we believe you can do it too, it is far less complex than people think. 🙂
Studies from 2015 show that there is a big increase in investment and interest from business owners of all sizes in promoting websites, SEO (see the graph below) and it's worth your while to join this trend as well!
WordPress site promotion and search engine optimization is not about faking results or promotion tricks.
The purpose of optimizing your WordPress site through organic promotion (free of advertising and promotion fees) is to make your site more search engine friendly.
WordPress site promotion also optimizes the content for the web surfers who come to your site – by ensuring the quality of your content, making it interesting, original, editing it in order to make it easy to read and understand – for example by splitting it into paragraphs and adding clear headlines.
Sponsored promotion (like Google AdWords) as opposed to organic promotion, is an ad where the advertiser pays for each click on your ad ("pay-per-click") leading to your WordPress site.
If you already have sponsored advertising – it's important to know that the more your site is promoted organically, the lower will be your cost for each sponsored click.
We decided to do some research and see if there really is any interest in the world of SEO. According to research in the past 5-6 years, there has been a clear rise in the interest of small and large businesses around the world in SEO, and the demand curve for sponsored advertising such as Google Ads and PPC pay-per-click has flattened or even dropped.
We searched through Google Trend (looking at the number of searches and trends over time) and saw very clearly that the amount of interest in SEO has been rising sharply since 2004. The level of interest in sponsored promotion – Google Ads and PPC pay-per-click shows a clear decline.
Of course, SEO on Google WordPress also shows growth over the last 5 years…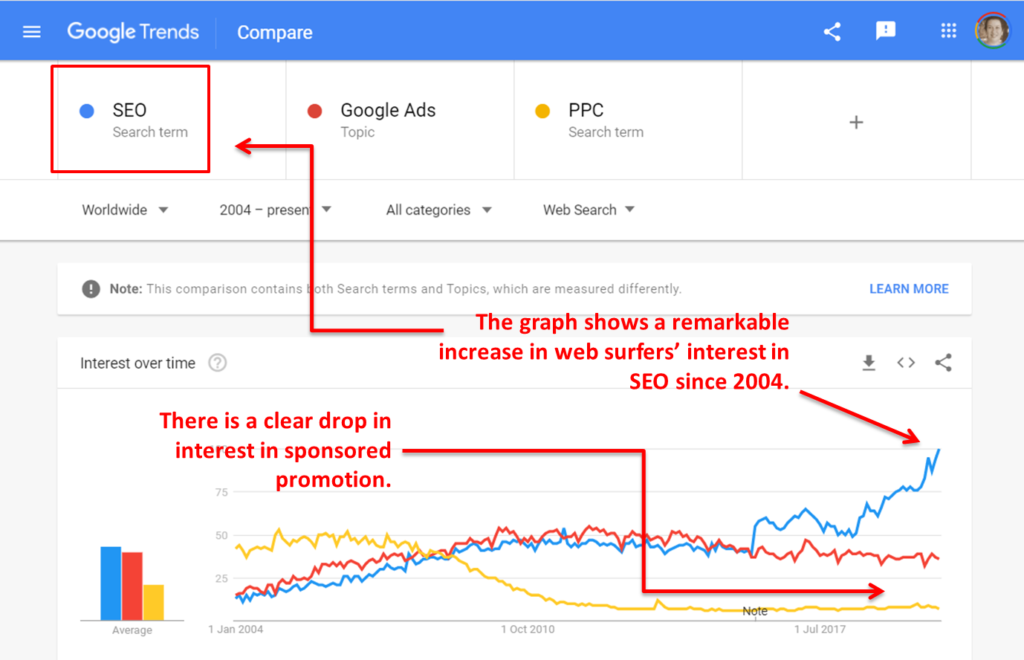 Google search is the biggest source of potential customer traffic for most websites.
Google's search engine ranking algorithm is very complex and has thousands of parameters,
But even so, it is not that smart…. It needs your guidance to understand what is important for you to promote.
An average site has tens of thousands of words. One of the goals of website promotion is to explain to Google what the most important words are on your site.
For example – if you came to this page through a Google search, you probably searched for "promoting WordPress sites in Google", we "explained to Google" through the SEO of this page that this phrase is – an important group of words in the article.
We really believe that promoting Google WordPress sites brings results that justify your investment.
With over nine years of experience in website promotion, we can confidently say that if you work right – you'll get inquiries and paying customers from your website.
True, it doesn't just happen on its own.
The WordPress site and blog system, that began as a simple blogging platform is gaining momentum and today about a third of all websites in the world are built on WordPress.
If your website is a WordPress site, you chose it wisely!
WordPress Website SEO - Basic Operations:
Your WordPress admin panel has an option which enables you to hide your site from Google and all search engines.
The purpose of this option is to give you time to work on the site before it is ready for publication.
We recommend never to select this option!
If this option is enabled – Google comes to your site – and for a period of time, sometimes for weeks or months, the site tells Google that the door is closed, and Google, to save resources, stops visiting the site.
Google really "doesn't like" this and it can take a long time even after you have opted out of this option before Google comes back to visit the site.
We recommend that, after considering your basic design, you prepare your content on Word documents and then upload them immediately, live on-line. You can begin with one page at first and progress from there, one page at a time.
It's OK even if the site is not perfect at first. It will take some time for it to start progressing on Google searches. If it is really important for you not to upload before the site is "perfect" we recommend that you build the site on a temporary domain and not on your permanent domain!
In any case – if your site promotion isn't advancing or if not all the pages on your site have been crawled – check to see if the "hide from Google" option is selected on the WordPress admin page.

The initial definition of a new WordPress site is the site name + number. It looks something like this: muchmore.co.il/?p=123
It really does not look good in a Google search or in any link you leave on any social network like Facebook.
It is clear that a URL like – muchmore.co.il/contact is better than muchmore.co.il/?p=123.
so what do we need to do?
Under WordPress admin settings, select 'Settings' >> 'Link structure' and select 'Post Name. This option will allow you to create the URL or page that has a link to the page / post you created, such as – about, contact, blog, etc …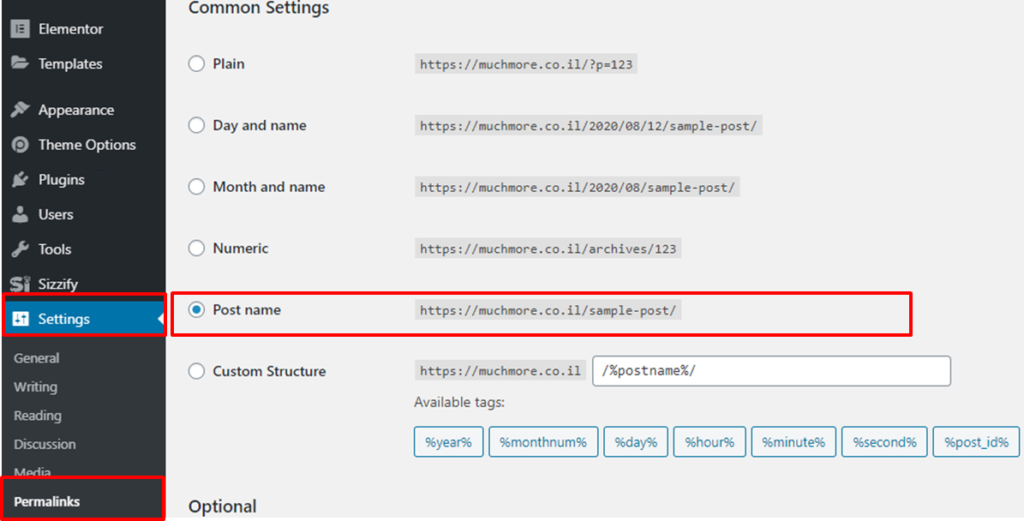 Securing your site with an SSL certificate is a really critical issue in the promotion of WordPress websites that can cause you and your site users damage.
If you have a store on the site – it is absolutely mandatory to install an SSL certificate.
SSL security is especially important for users of your site. If your site is based on the old http technology and not https any information that users will leave on your site is completely exposed!
Google announced in 2018 that it will "penalize" any website that is not secured with SSL by reducing their SEO ranking.
In addition, Google will sometimes send an alert that the site is not secure for users who have received a link to the site by email or WhatsApp.
Without Security/Insecure
Secured with SSL/SSL security installed
Secured
This is a very simple and important test!
The result reflects how many pages Google has crawled on your site including pages, posts, categories and more.
Google usually displays the pages it thinks are the most important on the site.
The results allow you to assess whether the site hierarchy needs to be changed, so that Google, and the website users will also understand which pages are the most important on the site.
Checking how many pages Google has crawled and which pages it displays can inform you that not all of the pages on the site were crawled. If this is the case there is probably a problem on the site that needs to be examined in depth.
To check, go to Google standard search page and enter the word "site:" in the search box: then your domain name.
For example, site: muchmore.co.il

Promoting WordPress Sites on Google – Real Value
In order for your WordPress website to overtake the sites of competitors in search engine results, we recommend that you fill it with value. True value, that will meet the desires and cravings of the customer.
The days when attractive pictures and tempting prices were enough to close a deal are over.
Attracting customers is a dynamic game. A game that is constantly refined. Market analysis shows that Google and the search engines can identify and promote sites which offer true, original value. Sites that enhance the customer's life.
Promoting WordPress Websites on Google – Focus
Our goal is for every page on your site to reflect your business focus, differentiation and branding and to drive every potential customer to action:
Positioning yourself as an expert in your field – will attract more prospects
In the video above, Revital spoke about focus, uniqueness and differentiation.
The following article tells the the story of how Revital and I found our way to define our unique and differentiated brand as website promoters
One of the things that affect the promotion of your WordPress website on Google is the website's upload speed.
Because about 70-80% of surfers will find your site browsing on their cellphones, Google is paying close attention to the speed of page upload.
Users who land on a slow site will abandon it pretty quickly… Today patience is in short supply… …
About six months ago, we began to promote a large site full of marketing content and lots of interesting articles, that received relatively little free organic traffic.  Only by improving the site's speed did we manage to double the number of organic search entries within a month.
I recommend starting with the speed test!
One of the reasons we like WordPress so much is the amazing number of free software plugins.
For example: free Cache extensions that will, without too much hassle, help improve the upload speed of your site.
Cache technology allows you to save a mirror image (static HTML page) of every page on your site, which helps the site load up much faster.
It's a little confusing because there are so many free cache extensions that you can download – in the next article I'll explain a little about cache technology and recommend how to choose the best plugin for your site.
Another critical step that is important to take is to make sure your site is listed on your name! It would be very sad if the site you put so much work into just disappears someday, because the site's domain name and storage is not listed on your name.
WordPress SEO - Writen by:
Revital Vered Teva
Designs content-based strategies for website promotion and writes content

Uri Vered
Expert in promoting WordPress sites on Google, building WordPress sites

Did you like the article? Is there anyone this article might interest you? We would love to share!
Is there an error in the article? Do you have a question? We'll be glad to hear: